Pluvia 7 PHD
70mm  widerange drive unit
4ohm double ferrite magnet
4in natural blue uncoated paper cone
Wide operating range –rolled off high frequencies for vintage tone
Low cone profile –very broad directivity pattern
Advanced low-distortion motor design
Long-stroke suspension with arrestor and progressive-rate spider
Low-profile surface-mount reinforced polymer basket
Description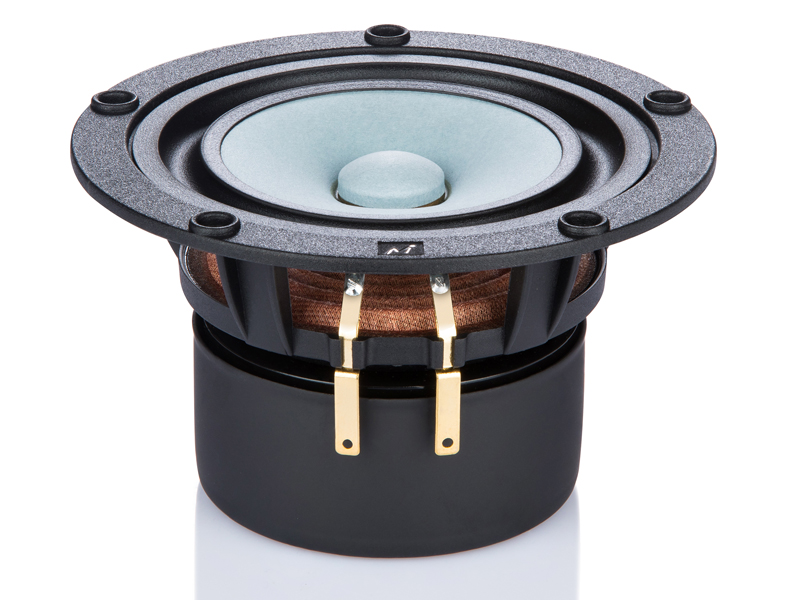 The new paper-cone Pluvia 7PHD was developed specifically for the Japanese and Asian markets, and its response balance was carefully engineered to provide a shelved down treble and emphasised upper midrange output to address specific regional requests.
The attractive paper cone, suspension and low-mass coil, wound in high-purity rectangular section copper are unique to this model, and the Thiele / Small characteristics engineered to allow surprising bass performance from a compact drive unit. The frame is the familiar, high quality Pluvia design, which may be conveniently surface or flush-mounted, and has a very open design, allowing good air-flow to the rear of the cone.
The sound balance is warm, with emphasised upper midrange, and soft treble. Jazz followers in Asia played a role in the final tuning of this driver. Those enthusiasts into vintage and mono recordings using warm tube (valve) amplification may have a particular interest in this driver.
| | |
| --- | --- |
| FS | 77.7903 Hz |
| VAS | 4.4905 L |
| RE | 3.5000 Ohm |
| QMS | 2.968 |
| QES | 0.6623 |
| QTS | 0.5355 |
| B×l | 2.9146 |
| dBSPL | 87.063 |
| SD | 0.0050 m2 |
| CMS | 1.2728 mm/N |
| MMS | 3.2888 g |
| MMD | 3.0871 g |
| L1kHz | 0.0274 mH |
| PWR | 15 Watts Nom |
| X max (Mech) | +/- 4mm |
Additional information
| | |
| --- | --- |
| Weight | 2.5 kg |
| FS | 77.7903 |
| LE | 0.0274 mH |
| MMD | 3.0871 g |
| MMS | 3.2888 g |
| BL | 2.9146 |
| QES | 0.6623 |
| QMS | 2.7968 |
| QTS | 0.5355 |
| RE | 3.5000 Ohm |
| SD | 0.0050 m2 |
| SPL | 87.063 |
| VAS | 4.4905 Ltr |
| X MAX | 4mm 1 way |
| POWER (NOMINAL) | 15Watts |