Pluvia 7.2 HD
70mm   Fullrange drive unit
6ohm    double ferrite magnet
4in Soft Chrome or Vintage Gold magnesium alloy cone
Operating range to 30KHz –very linear response
Very shallow multiform cone profile –very broad directivity pattern
Advanced low-distortion motor design
Long-stroke suspension with arrestor and progressive-rate spider
Low-profile surface-mount reinforced polymer basket
Description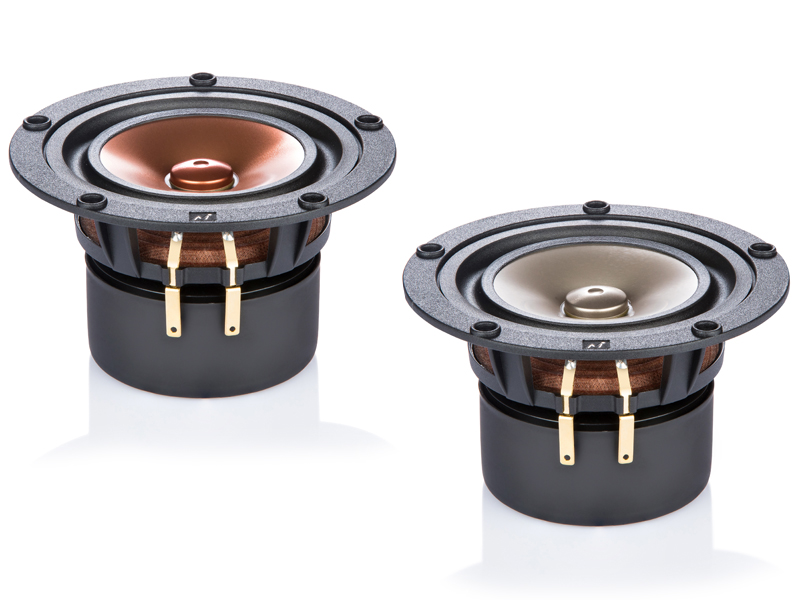 The second-generation Pluvia 7HD is designed to supersede our original Alpair 7 series drive units. It employs many of the same components, and has a very similar balance of frequency response and Thiele / Small values to the old Alpair model, packaged in the more efficient and convenient Pluvia frame. With a mounting depth of less than 4mm, the Pluvia may be surface or flush-mounted, and the design of the mounting legs is very open, allowing good airflow to the rear.
The low-mass coil, suspension and shallow-profile cone are highly efficient. Frequency response extends beyond 30KHz, and the generous 4mm (1-way) Xmax and conveniently balanced T/S parameters allow 40Hz bass output in suitable enclosure designs. The sound character is neutral and highly detailed, with excellent off-axis performance. It is an extremely flexible drive unit for music, small HT and commercial AV applications, and offers exceptional performance at an affordable price point.
Availble in 2 cone colours, vintage gold and soft chrome.
| | |
| --- | --- |
| FS | 72.5494 Hz |
| VAS | 4.4227 L |
| RE | 5.4000 Ohm |
| QMS | 3.1446 |
| QES | 0.7173 |
| QTS | 0.584 |
| B×l | 3.6297 |
| dBSPL | 85.7419 |
| SD | 0.0050 m2 |
| CMS | 1.2536 mm/N |
| MMS | 3.8390 g |
| RMS | 0.5565 WM |
| RAT | 118590 WA |
| RMT | 2.9963 |
| MMD | 3.6373 g |
| h0 | 0.23% |
| L1kHz | 0.1652 mH |
| Pwr | 20watts Nom |
| X Max (Mech) | +/-4mm |