MAOP 10
Description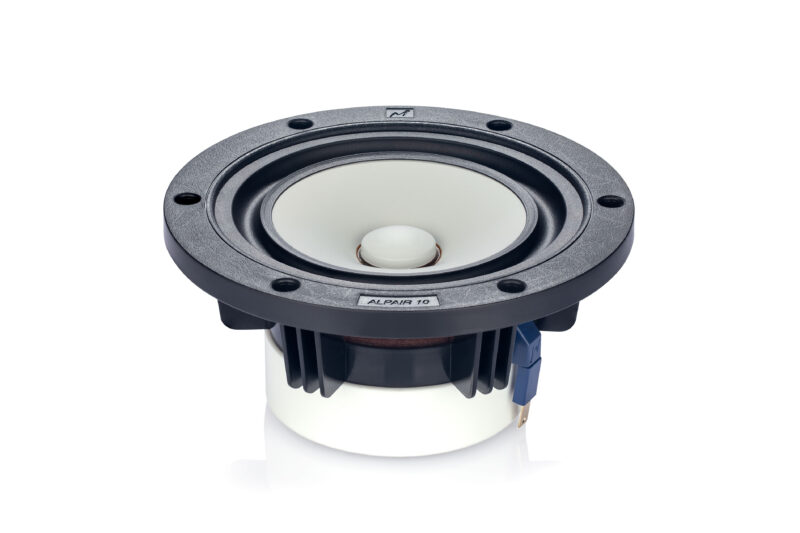 100mm Fullrange drive unit. Single ferrite magnet.
8ohm Nominal impedance
Low-profile, micro-arc oxodised multiform cone for broad directivity pattern
All MAOP drive units are custom measured in our anechoic chamber: data here published as a sample for general guidance.
The Magnetic Arc Oxidisation Process is done at extremely high temperature in a flux bath that is prone to differential temperatures (hot/cold spots) which can warp the cones. The process is 10 times the cost of normal cone production, at least half are scrapped as it does render cones unusable if they are warped even slightly. The MAOP process involves a chemical conversion where the cone material is converted into its crystalline oxide. The crystal grows both inward into the substrate and outward. As such the new coating is not a deposited coating it is part of the original structure which gives excellent adhesion. The large crystal structure provides excellent stiffness and resistance to damage. The crystalline structure also encapsulates microscopic voids. It is supposed that it is the blend of microscopic voids and stiff structure that lend the cone the audio properties of both the metal cone and the paper cone, accuracy and a listen all day quality.
After construction, each driver is individually measured in the anechoic chamber at the Markaudio factory and pair matched based on that data to within, 0.5% tolerance. Each pair is supplied with individual electrical and acoustic measurements.
| | |
| --- | --- |
| Revc | 7.2 Ohm |
| Fo | 39.8664 Hz |
| Sd | 0.009 m ² |
| Vas | 26.1871 Ltr |
| Cms | 2.6737mm /N |
| Mmd | 4.9224 g |
| Mms | 5.4051 g |
| BL | 5.6521 Txm |
| Qms | 2.0048 |
| Qes | 0.4497 |
| Qts | 0.3673 |
| L1kHz | 0.0681 mH |
| h0 | 0.38% |
| SPLo | 88.9472 dB |
Additional information
| | |
| --- | --- |
| Weight | 5 kg |
| Dimensions | 30 × 30 × 30 cm |