Alpair 12PW
140mm Widerange drive unit
8ohm    single ferrite magnet
Variation on Alpair 12P optimised as widerange midbass
7in natural blue uncoated reinforced paper cone
Operating range to 10KHz
Very low-profile multiform cone for broad directivity pattern
Advanced low-distortion motor design
Long-stroke hybrid mono-suspension with arrestor and progressive-rate spider
Self-damping reinforced polymer basket
Description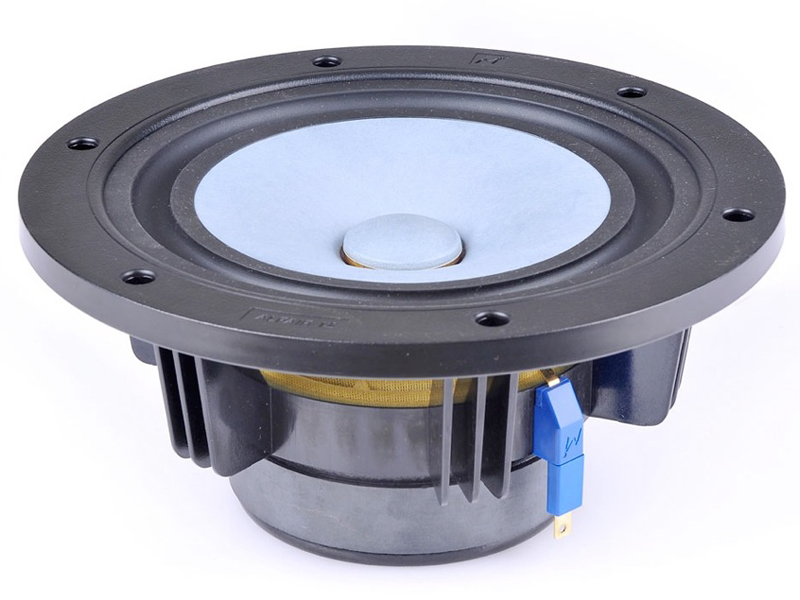 The Alpair 12PW is a audiophile grade paper and glass strand re-enforced coned bass-mid driver. Along with its Full-Range sisters drivers, 6P,10P and 12P, the Alpair 12PW is designed for the Serious music listener. The 12PW's relatively flat response is designed to deliver a neutral sound. The mid-high range gradually falls away above 10kHz.
The development of this driver follows its Full-Range sister unit, the Alpair 12P. Both drivers are Semi-Free-To-Air designs, relying solely on their rear suspensions for mechanical operation. The Alpair 12PW has a re-enforced rear suspension and a new coil to enable handling of typical audiophile low frequency loads (not constant low frequency loads).
The 12PW has a long mechanical throw, limited by its Arrestor to 8.5mm (1 way). This driver is a low-mass design, its power-train has a moving mass of 11.7 grams yet delivers a Vas of 45 litres with a total Q of 0.39, making it ideal for larger scale purist box designs.
An all-new computer controlled bonding process is deployed on this driver, delivering ultra tight tolerances in critical parts of the 12PW's power-train assembly. !
The 12PW is primarily designed to be partnered with the Alpair 7P yet will also be a excellent partner for many tweeters. The marriage between 7P and 12PW promises much in the way of deep rich bass and fine mid-high range detail.
| | |
| --- | --- |
| RE | 5.4 Ohms |
| FS | 38.4 |
| SD | 147.410 |
| VAS | 45.3 |
| CMS | 1.468m M/N |
| MMD | 10.658 g |
| MMS | 11.687 g |
| BL | 5.308 T/M |
| QMS | 1.440 |
| QES | 0.541 |
| QTS | 0.393 |
| LE | 49.3 uH |
| SPL | 88.6 dB |
| POWER (NOMINAL) | 40 Watts |
| X MAX | 8.5 mm (one way) |
| COLOUR | Paper |
Additional information
| | |
| --- | --- |
| Weight | 2.6 kg |
| Dimensions | 45 × 45 × 25 cm |
| RE | 5.4 Ohms |
| FS | 38.4 |
| SD | 147.41 |
| VAS | 45.3 |
| CMS | 1.468m M/N |
| MMD | 10.658 g |
| MMS | 11.687 g |
| BL | 5.308 T/M |
| QMS | 1.44 |
| QES | 0.541 |
| QTS | 0.393 |
| LE | 49.3 uH |
| SPL | 88.6 dB |
| POWER (NOMINAL) | 40 Watts |
| X MAX | 8.5 mm (one way) |
| colour | Paper |