CHN-40
40mm Fullrange drive unit </ br> 8ohm single ferrite magnet</ p>
full range drive unit
Metal cone in 2 colours
Wide perating range to 25KHz –very linear response
Description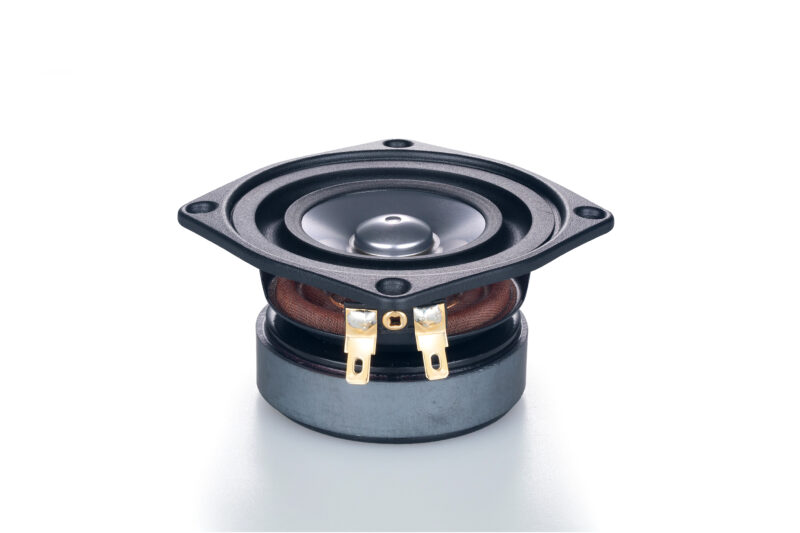 CHN-40
40mm Fullrange drive unit
8ohm single ferrite magnet
2.5in silver colour magnesium alloy cone
Operating range to 25KHz –very linear response
Low-profile multiform cone –broad directivity pattern
Long stroke suspension with progressive-rate spider
Low profile surface-mount metal basket
The CHN-40 is Markaudio's smallest driver in its entry level line up after the CHN-50 and CHN-70, the compact 2.5 inch unit suitable for use in smaller full range or nearfield loudspeaker systems, as a quality mid-tweeter for low-crossover multiway designs, and for array applications.
The CHN40 has a gentle rise into the low and high frequency response, as seen in some of our more expensive drive units, to enhance speaker box off-axis positioning flexibility. The sound presentation is forgiving, without glare, and the Thiele / Small parameters, with a generous 3.5mm (1-way) Xmax are balanced for ease of use.
The low-mass voice coil, suspension and shallow profile magnesium alloy cone are custom designs for the CHN40. The pressed steel frame is designed to be very open and allow airflow to be as free as possible to the rear of the cone. Response extends from resonance to beyond 25KHz, and the impedance rise at higher frequencies is only modest, due to the careful motor design.
The CHN40, like the larger driver in this series is versatile, easy to install, making it suitable for a wide variety of applications.
| | |
| --- | --- |
| FS | 97.4826 Hz |
| VAS | 1.1523 Ltr |
| RE | 6.8 Ohm |
| QMS | 3.7689 |
| QES | 0.7752 |
| QTS | 0.6429 |
| Bxl | 3,1071 Txm |
| SPL | 83.41 |
| SD | 0.0023 m² |
| CMS | 1.5733 mm/N |
| MMS | 1.6942g |
| RMS | 0.2753 WM |
| RAT | 307716 WA |
| RMT | 1.6140 WM |
| MMD | 1.6322g |
| h0 | 0.13% |
| L1kHz | 1.0575 mH |
| PWR | 7 Watts (Nom) |
| X MAX (Mech) | +/- 3.5mm (One way) |
Additional information
| | |
| --- | --- |
| Weight | 2.6 kg |
| Dimensions | 45 × 45 × 25 cm |
| RE | 7 Ohms |
| FS | 42.149 |
| SD | 147.410 |
| VAS | 43.060 Ltr |
| CMS | 1.396m M/N |
| MMD | 9.188 g |
| MMS | 10.217 g |
| BL | 7.540 T/M |
| QMS | 1.981 |
| QES | 0.333 |
| QTS | 0.285 |
| LE | 53.952 uH |
| SPL | 91.73 dB |
| POWER (NOMINAL) | 30 Watts |
| X MAX | 5.4 mm (one way) |
| colour | Paper |